SolarXgen Namibia Solar Power costs on average 67% less than NamPower
Namibia imports about 60% of electricity from neighbouring countries including South Africa, Zimbabwe and Mozambique, with it's main utility provider being NamPower . Like most state-owned utilities, NamPower's electricity pricing has been subject to considerable inflation. Fortunately, Namibia provides an ideal environment for Solar power and commercial clients should explore these options.
Out-pricing Utility
Commercial clients in Namibia are paying for both energy and power. The 2017 NamPower rates reveal a price of N$1,21/kWh for energy and N$231/kVA for power. Not long ago, these prices were mostly unbeatable and ultimately somewhat palatable – But times have changed.
SolarXgen deployed Namibia Solar Power drives the rate of energy down to under N$0,40/kWh. That's 67% cheaper than the rate from NamPower. Solar Power has the additional benefit, in that, the rate of energy does not inflate. The savings are evident from year1. With 25 year production guarantees the time to switch on Solar Power was "yesterday".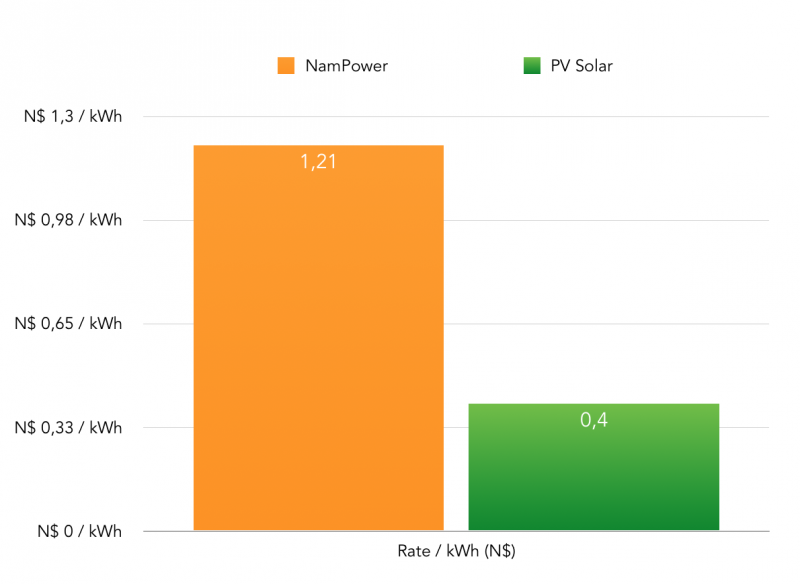 Solar for Your Business?
You may have decided to look at solar power at your facility. But, you are unsure where to begin and the process to trust. SolarXgen specialises in commercial solar power systems. In 2016 we designed over 181 systems totalling 64mW. Our proposals cost nothing and our guarantees are financially backed.
SolarXgen is a licensed energy provider | Reference made to NamPower tariffs are in the public domain| an application to trademark Namibia Solar Power has lodged | All rights reserved