What are the latest developments and upcoming technologies in the solar industry?
Traditionally, when you think of solar power an image of rooftop solar panels or a solar farm in a desert comes to mind… as traditionally these utility-scale and rooftop solar panels presently dominate the market.
But now we are begging to see emerging technologies either in the pipeline or already available to some degree in the market. These new technologies mean that we may have to rethink the way we see solar panel technologies as they no longer would require large sections of land or roof space. Here are a few to take a look at:
Floating solar farms ('floatovoltaics')
"Floatovoltaics" are photovoltaic solar power systems created for floating on reservoirs, dams, and other water bodies.
Floating solar farms can generate huge amounts of electricity without using valuable land or real estate. The installation costs of floating photovoltaic panels are less than land-based photovoltaic panels. Also, research showed that the power production of floating solar panels is greater by up to 10% due to the cooling effect of water.
As the cost of production of silicon panels becomes cheaper, they would offer a greater efficiency as well as other benefits in South Africa. As we are considered a water scarce country, floating solar farms could help with water management as they help to reduce loss of water to evaporation by limiting air circulation and blocking sunlight from the water surface. Floating solar farms help to prevent noxious algae production, lowering water treatment costs. Finally, the water beneath keeps solar panels clean and minimizes energy waste.


BIPV solar technology
From and aesthetic point of view, building-integrated photovoltaics blend into building architecture as roofs, canopies, curtain walls, facades, and skylight systems without compromising the buildings design.
When substituting standard building materials with BIPV, you no longer need to go to the extra expense of having solar panel mounting systems.
If used correctly and applied to various aspects of the building, BIPV offers the following benefits:
Increased energy efficiency
High thermal and sound insulation
Clean and free power output from the sun
Decreased O&M costs
Zero carbon footprint
The photovoltaic PV glasses installed as building materials act as an energy-generating device, allowing natural light inside homes and offices, just as conventional architectural glasses.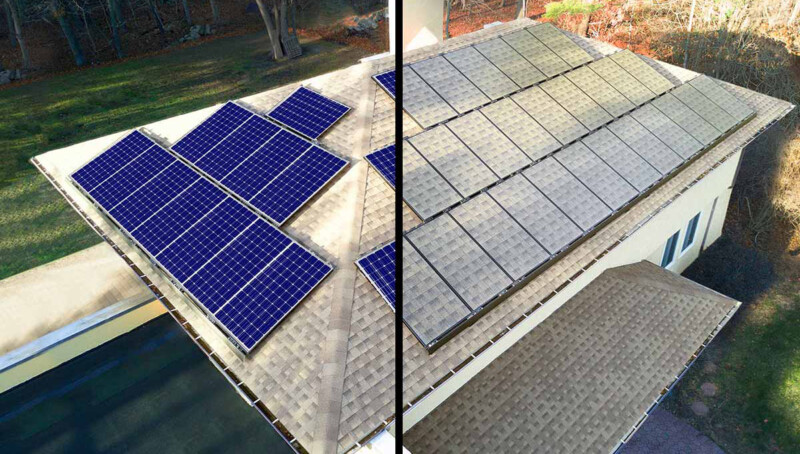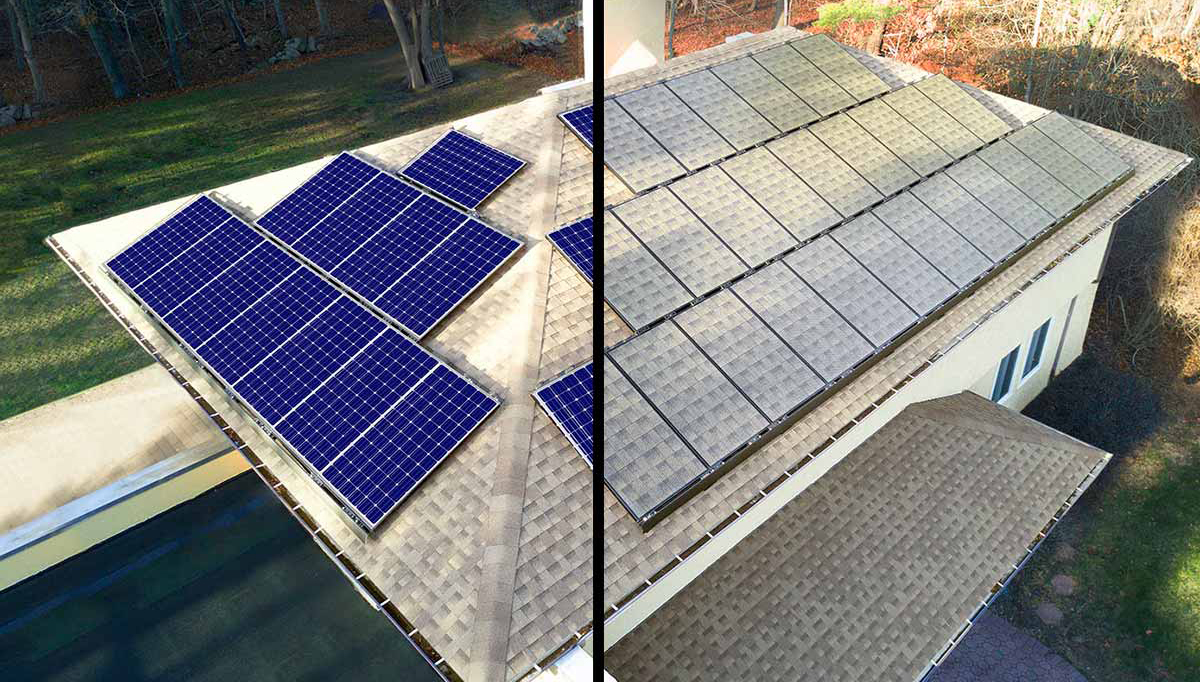 Solar skins
Solar skins, developed by Sistine's SolarSkins, are a novel PV technology to integrate custom designs into solar panel systems. The solar skin technology is similar to the ad wraps displayed on bus windows.
Solar skins are a new technology that uses a similar technique as ad wraps you would see on buses to integrate custom designs into your solar panels.
As some people may view solar panels on their rooftops or lawns as unsightly, this technology aims to match their surroundings with imprinted custom images. Solar thin-film skins maintain high efficiency due to its selective light filtration advancements. The sunlight falling on solar skins is filtered to reach the solar cells beneath it. As a result, it simultaneously displays the custom image and provides solar energy.
Also, not a bad place for your business to display their logo!
Moreover, solar skins utilize rail-less racking systems, sit lower, have a sleek finish, and hide metal components, giving the panels a super cool look. If panel aesthetics stops you from going solar, Sistine's SolarSkins might be the solution you are looking for.
The only downside, for now, is that theses panels cost around 10% more than traditional solar panels.
Solar fabrics
Imagine being able to generate your own electricity wherever you are through your own clothes?
Well researchers are developing solar fabrics that could do just that by including solar power in each fibre. These solar filaments can be embedded into just about anything including t-shirts, winter coats, or any other clothing to help you keep warmer, power your phone, and provide energy for other needs while you're on the go.
We can think of a few items that could combine solar fabric and solar panels to benefit our everyday lives, which include:
Canvas carport that provide shade and electricity!
Gazebos that could charge your phone.
Curtains that eliminate power consumption from the grid.
Let's not forget, the costs that could be saved when not needing solar mounting technologies! We look forward to seeing this technology become a realisation of the future.
Solar is the future!
These are but a few of the latest commercial and residential solar power technologies that are being developed around the world.
Imagine one day being able to charge your electric car on your way down to the cost with your very own mobile solar carport – ok, maybe this is still in the somewhat distant future, but these are the developments we'd like think would someday change the world and make it more sustainable for future generations.