How it compares? PV Solar versus Ekurhuleni electricity Tariff for business.
You may have heard that a PV Solar system produces electricity at a cheaper rate than that of Ekurhuleni's business tariff rate, but lets look at the actual differences.
Ekurhuleni provides 4 differing business tariffs ( Tariff B – is for small business, Tariff C is the most common tariff for business albeit deprecated for new client. Tariff D is for large client with demand of more than 1MVa and Tariff E is a "time of use" tariff which is relatively new). For the sake of this article we compare the impact of the Ekurhuleni Business Tariff C with that of our PV Solar systems.
Energy & Demand Charge
To appreciate the impact of a Solar Power system one has to understand the basics behind the varying charges associated with electricity. Ekurhuleni Tariff C is broken down into 4 differing categories as follows:
Fixed Service Charge – as the name suggests the amount is fixed every month.
Demand Charge – is based on Apparent Power (kVA) delivered.
Energy Charge – is based on the volume of energy supplied (kWh).
Network Access Charge (NAC) – is based on the highest Demand Charge over a rolling 12 month period.
The chart below indicates the Energy ( kWh ) rate for each month throughout the year. The 3 "peak" winter months carry a higher rate than the 9 summer months, with a blended ( annual average ) tariff of R1,18/kWh.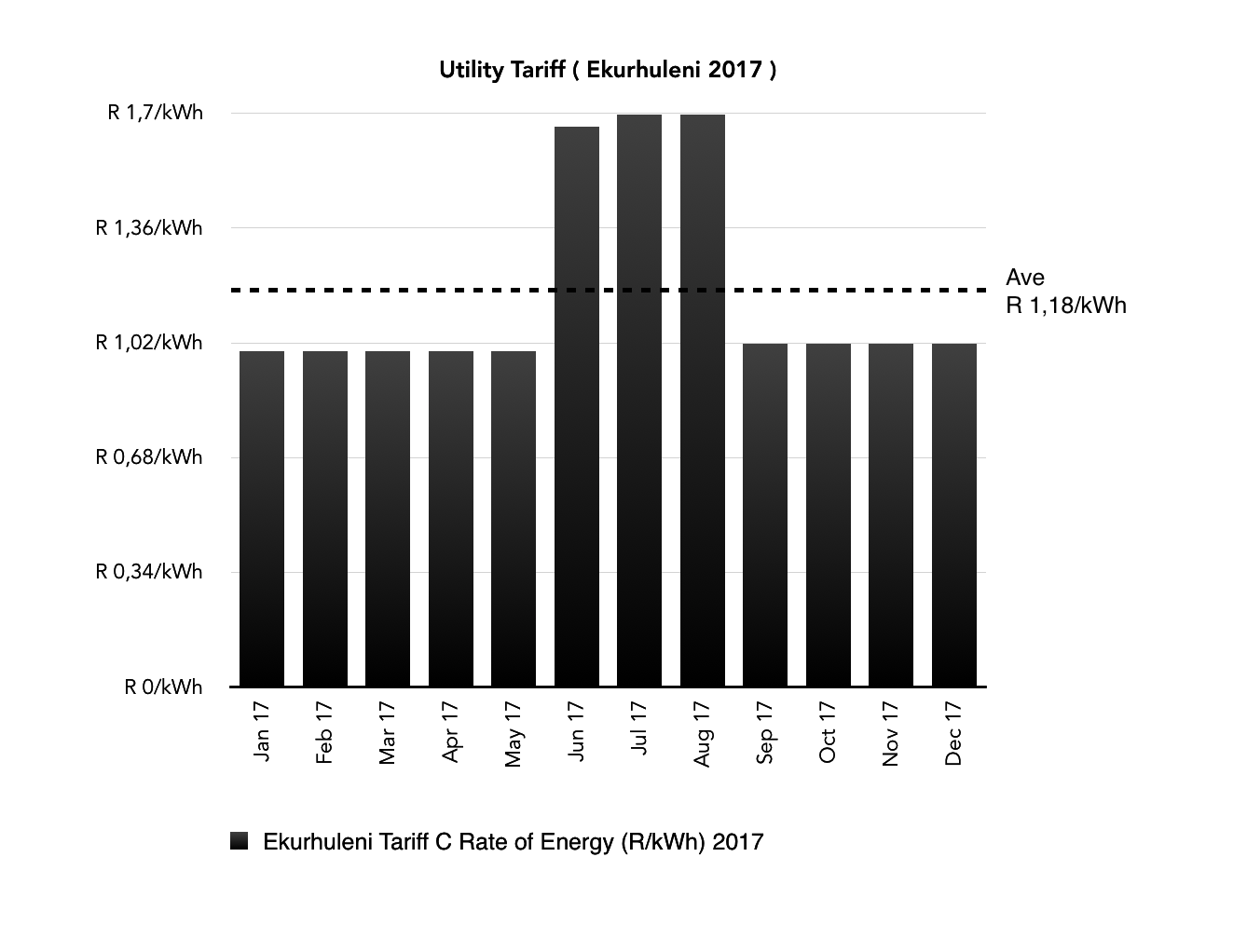 How our Solar rates compare to Ekurhuleni energy rates
To calculate the cost of energy ( kWh ) supplied via our Solar systems requires the knowledge of 2 key variables:-
The actual cost of the photovoltaic solar system in Rands ( Value ) ;
The volume of guaranteed energy the system will produce over the maintained lifespan of the solar system ( kWh );
It must be noted that the volume of energy produced by a solar system over a period of 25-30 years greatly depends on the design, products used, maintenance costs and the overall effectiveness of the installation of such system.
Our PV Solar versus Ekurhuleni electricity comparison reveals a rate of energy from solar in the Ekurhuleni region is R0,37/kWh, an effective reduction of  72% cheaper than utility.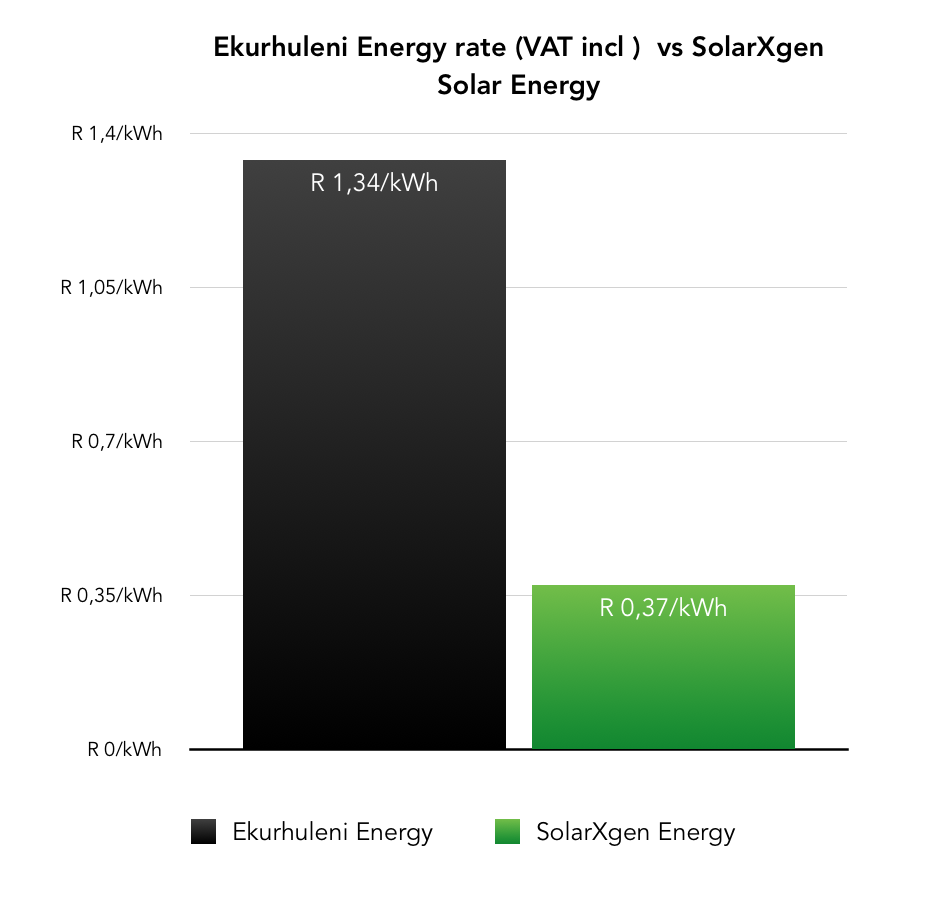 The additional Ekurhuleni component –  apparent power ( kVA )
Whilst solar power will reduce contracted power ( kVA ) during the hours of operation, the singular reliance thereon is not ideal because:-
Your facility may operate from early hours of the morning or later hours in the evening.
Solar output does fluctuate during inclement weather.
To stabilise the impact of a solar system on power reduction and further enhance the impact of reducing Ekurhuleni electricity expenditure, our hybrid approach seamlessly integrates your existing diesel genset into a power "peak lopping" device , controlled with an integrated PLC that manages both the solar power system and the generator for maximum savings benefit. This approach utilises the generator to aid the solar in "parallel" with utility and safely reduces excess power demand.
Ekurhuleni VS Solar integration summary
A well designed and carefully integrated approach to a photovoltaic solar system can greatly reduce your business expenditure on electricity in Ekurhuleni. As utility rates continually rise, Solar energy remains constant and additionally acts as a bulwark to electricity inflation.
SolarXgen specialises in commercial PV solar power design and integration of stand-alone aswell hybrid power solutions.